Are you a struggling parent in recovery?
I specialize in Parenting in Recovery – Parent Coaching
Empowering parents to

rebuild their lives,

restore families, and

reconnect

their relationships while navigating recovery
My name is Dr. Judy Sullivan Osterhage
Certified - Parent Coach - specializing in coaching parents in recovery
Certified Family Mediator - specializing in family law
Early Childhood Specialist, teaching preschool and kindergarten for many years. Degree in Elementary Education K - 12. Doctorate degree in Social Justice - Educational Leadership for Change.
Recovery Coaching Specialties:
· Coaching parents in recovery, making success strategies to transition home
· Developing reunification strategy plans for kids in foster or temporary care
· Reconnecting relationships with kids of all ages - even adult children
· Developing healthy personal boundaries in recovery
· Recovery after loss of a child
Support Services Provided:
Individual Sessions
Group Sessions
Family Sessions
Co-Parent Sessions
Extended parent support through Residential Facility
Offer through outpatient
Recommended as part of transition plan
Individual's on-going or single session coaching
Parent support team coaching Sessions
Co-parent Sessions
Here is what Harmony shared:
Judy is a God send in our life!!!
I came to her seeking guidance as a parent for my three children and took home with me tools that have completely transformed our relationship and family bond in ways I could never have dreamed possible!!!
I'm forever grateful!!!
Thank you Judy.
Is your addiction robbing your family of "the best" you?
Are frustrations, anxiety and struggles of parenting a trigger to use?
Are you ready to get off the roller coaster and show up for your kids?
When I lost my son - I lost my - "best me"
I felt like I was drowning! I couldn't sleep, I was angry all the time, my stomach ached and the effect on my other son became obvious. I never thought it would end. I became so depressed and powerless ......
The pain was so much …. I used …… to take away the pain
It worked – for a very short time and then it became more destructive
And I lost my - "best me" - until I found it in recovery!
Have you lost hope of getting your children back?

I can help you!
Parenting in Recovery - Additional Resources
With coaching many parents in recovery the feeling of powerfulness and lack of control and skills to deal with challenging behaviors - can be the reason for relapse. (Like Tantrums for example). Tantrums (no matter what age the child) are often stressful and triggering!
Here is an additional support resource:
---
Often due to addiction struggles families fall apart.
Unexpected legal procedures and making plans for the kids can be triggering
Here are additional services when helping developing A SOLID parent Visitation Plan for court order Child Visitation Plan
---
Press on titles to get links to more information
My Experience
I have been working with families and kids for almost 40 years. Throughout this time, I have had the added experiences of working with people of all ages (from pregnancy to elderly) and learning about children and family dynamics. Coming from a large family of 12 was a great launching point to discover the complexity and connection within family relationships.
I work with nannies, caregivers, teen parents, moms, dads, camp counselors, teachers and grandparents. My primary focus is relationships. My goal is to help families find their way through each stage. I focus on teaching tools, skills and strategies for enhancing relationships, fun and ease, and making stronger family bonds.
I explore different types of strategies not found in typical family experiences. Coaching has been a big part of my career in each of my positions. As a mentor, teacher and family advocate, I have supported parents and children in school, at home and in the community.
I have the honor of working with foster resource families and foster youth. This helped me look at the motivations behind behaviors rather than the behavior alone. Working with foster youth has taught me how this early traumatic experience of being in foster care, changes brain development and behavioral outcomes. I also work with grandparents raising their grandchildren and have observed the unique dynamics of "kinship" care.
I have facilitated and attended many conference, workshops and training on various parenting topics. I have spoken on early childhood trauma, anti-bulling, and parenting issues for all ages at local, state and national conferences. I have presented in pre-school, churches, parenting groups and elementary schools.
My experiences are vast, my education is extensive but more importantly my communications and relationships skills are what make me a strong parent and family coach.
My Why
Life experience has expanded my knowledge and ability to work with children and families. Becoming a single parent added to my hands-on education and has helped me better support single parents who are learning to co-parent.
I have 2 teenage boys, who are the light of my life. I love being a mom and yet have had to navigate with them, divorce, co-parenting and the loss of a son.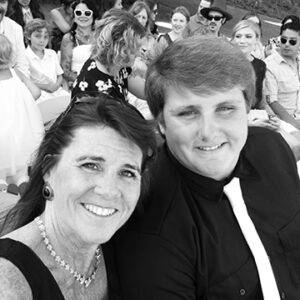 My oldest son got very sick with a heart condition and after living in and out of the hospital for almost a year - it was a very of a hard road, he passed away at the age of 17. This experience of losing a child has taught me so many things.
Through the grieving and my own personal counseling and recovery, I have learned so much about myself and as a parent, how we navigate the healing process for ourselves and our other children who have had to experience the loss of a sibling.
My Approach
I base my coaching on my background in Child Development and years of experience, education and many years as a Parenting with Love and Logic facilitator to create my coaching style.
I use developmental theory but more importantly practical, immediate skills meant to build relationships and bring order and ease into the families.
I draw on my personal life journey to explore situations and work together to come up with what works best in your personal situation.
Customized Coaching!
I am action oriented and like to give ideas for immediate skills and strategies so you leave a coaching session feeling empowered and more confident in your parenting.
I love leaving sessions with a parent feeling equipped to try a new relationship building approach. Excited and confident and get this… Looking forward to their child's misbehavior so they can try their new skills.
One client shared, "I was so excited I could barely sleep, I could not wait to try my new skills when my son misbehaved in the morning."
Parenting can be challenging to navigate at times but the investment in learning better communication skills will increase your confidence, improve your relationship with your children and reward you with a more positive family dynamics.
I look forward to meeting you and supporting your journey!
Connect with me for any questions
Are you ready to take the next steps to rebuild your life and your family?
I am a parent of three, and a recovered alcoholic......
Dr. Osterhage (whom I lovingly refer to as "DR. O") is an expert in the art of navigating parenthood. Over the years, she has proven herself essential in helping me to communicate and work towards a common goal within my family. Along with encouraging the necessary tools of empathy, listening and safety, Dr. O excels at blending the lines of strong love and strong boundaries into one. I don't know how many times I have struggled with wordy explanations and ineffective reasoning techniques, only to hear a straightforward one-line statement from Dr. O that turns out to be the game changer.
I am a parent of three, and a recovered alcoholic. Dr. O helped me to navigate the turbulence common to families that have lived alongside addiction, and she was a godsend when my son found himself suffering from drug addiction several years later. Dr. O is a trusted voice of reason, bolstered by many years of experience. She simply exudes a straightforward attitude - one full of both hope and reason. I cannot recommend her talents and skills enough. I amgrateful to have found such a wise guide for the journey.
Sandra Mistretta,- Clinical Director - Residential Care
I have had the pleasure of working with Dr. Judy since 2017. I have witnessed her working with large to small groups of mothers in an effective and informative way, as well as providing individual coaching. Judy is well loved by our clients that struggle with co-occurring disorders and works with mothers and children of all ages, supporting their transition into recovery and often helping to facilitate their return home to be reunified.
As the clinical director of a women's treatment center, I understand the challenges a mother experiences when struggling with addiction. One of the things I love most about Dr. Judy is her non judgmental and caring approach that she offers our clients. Judy provides a safe space to process the consequences of untreated mental health and addiction and the effect it has on their relationships with their children, whether they are young or grown adults. The whole family system benefits from Judy's compassionate care, behavioral interventions, communication tools, psycho education, coaching and action plans to help accelerate the healing process.
Judy is my go to- when I have a mother in treatment and they are struggling with shame, guilt, estrangement and loss around their children, I call her and she is readily available to help. Every single client that experiences some time with Judy reports feeling more hopeful and empowered. I am honored to know Dr. Judy and bear witness to the good work she does in our community.